All About Scooter
Thanks goes out to Travis for doing a survey for this page.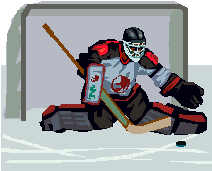 Vitals
Name: Travis Wayne Scott
Nicknames: Scottie, Great Scott, and Scooter
Position: Goaltender
Catches: Left
Shoots: Right
Height: 6'2"
Weight: 185
B-day: September 14, 1975
Birthplace: Kanata, Ontario (which is near Ottawa)
Hair color: brown
Eye color: hazel
Current Residence: San Antonio, Texas/Russia
Family
Marital Status: Married to Lisa Marie-met her when he was playing juniors in Windsor, Ontario-Lisa's birthday is October 5th-they got married on August 21,1998
Kids: Daughter- Jayden Ashley (Dec.31,1996) and Son-Owen Andrew-Ryan (Nov.9,1998)
Family:1 brother, Ryan, 25 (January 2, 1980) and 1 sister, Ashley, 21 (June 20, 1984) Dad: George, Mom: Julia
Pets: 1 cat named Pretty Kitty
Interests/Favorites
Hobbies: wrestling, video games, and golf
Sports growing up as a kid: Mostly played hockey-played baseball until he was 13..
Favorite NHL teams: Montreal Canadians and Chicago Blackhawks growing up...also is loyal to his hometown team the Ottawa Senators..he was never a Toronto Maple Leafs fan..
Favorite hockey player of all-time: Dominik Hasek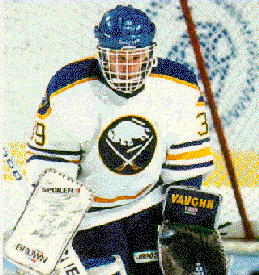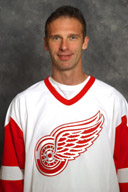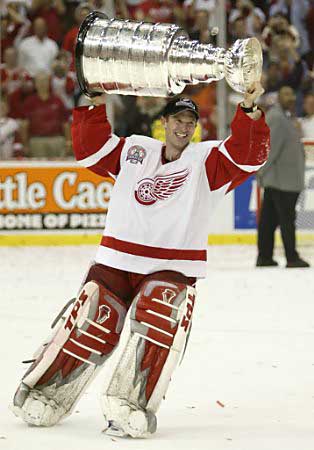 Favorite goalie: Dominik Hasek (pictured above)
Other hockey players he likes: Denis Savard and Jeremy Roenick
Favorite golfer: Mike Weir
Favorite golf course you've golfed at: Manchester Country Club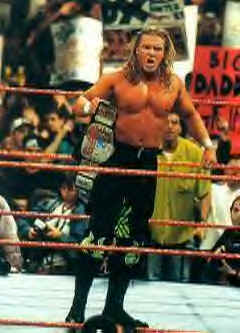 Triple H in action (Altosport)
Favorite wrestler: Triple H
Favorite foods: spaghetti, pizza, Nanny and Gramp's turkey dinner, beef stroganoff
Favorite junk food: chips
Favorite restaurant: Outback Steakhouse and Olive Garden (awesome choices!)
Favorite fast-food place: McDonald's
Favorite animal: Doberman Pincher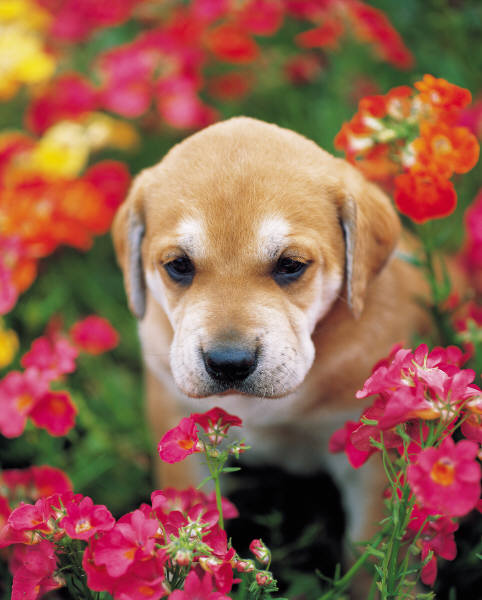 Favorite color: forest green
Favorite number: 38
Favorite subject in school: gym
Favorite holiday: Christmas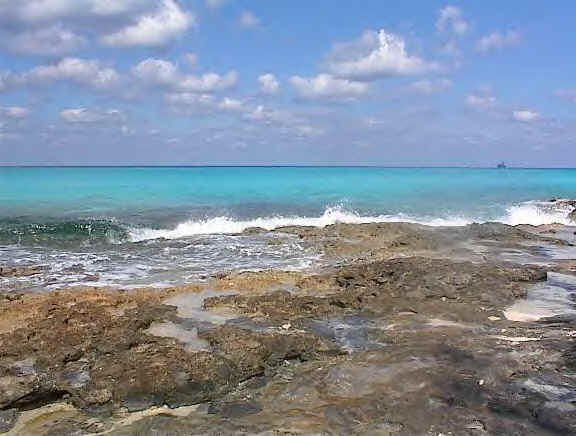 Anyone in the mood to go to the Bahamas?
Dream vacation spot: Bahamas
Favorite store: Dollar Store
Favorite actor: Edward Norton
Favorite movie: Tombstone and Dumb and Dumber
Favorite music: alternative; (Guns N' Roses)
Favorite TV shows: Days of Our Lives, Everybody Loves Raymond, Cheers, NYPD Blue, Big Brother, Survivor, and wrestling
Favorite Days of Our Lives character: Hope
Favorite car: sports car (Viper)
Career Info
NHL goalie whose style is closest to yours: Dominik Hasek
Goaltending style: Stand-up goalie (some say he doesn't really have a style)
Age when you started goaltending: about 6
He started out as a forward when he was 4 or 5, and he got a shutout when he played goalie as a little kid so he took a liking to it from then on.
Person who influenced your career the most: my father
NHL debut:11/28/00 at Madison Square Garden in NY allowed 3 goals on 10 shots....played 25 minutes..
Most Memorable Hockey Moment: Winning the ECHL Kelly Cup
Travis has been known to get into some good fights throughout his minor league career. He has fought with Dan Cloutier (been in the NHL), Scott Meyer (Hartford Wolfpack, 2002 playoffs), and Patrick Desrouchers (Springfield Falcons, 2000-2001 season). He was fined for that fight. Neil Little challenged Travis, and Travis didn't back down and ended up receiving a fine for leaving his crease even though the game had ended. Travis says that he has never lost a fight. I guess watching wrestling has paid off! He was also in a scuffle with Eddy Fehri, the goalie of the Cincinnati Mighty Ducks (1/4/04).
Travis was invited to Hartford's NHL camp while he was playing juniors.
He uses his height to cut down the angles. He is also fast on his feet.
When Travis was 17, he moved from his family's house near Ottawa to Windsor, Ontario to play junior hockey.
He played on the Windsor Spitfires with Jamie Storr. He played on the Lowell Lock Monsters with Roberto Luongo. He also backed up Luongo with the Florida Panthers for 1 game during the 2003-2004 season.
He worked with coach Bruce Boudreau for five straight seasons.
Jersey Number(s): #38 on Manchester Monarchs, #45 on the L.A. Kings, #38 on the Worcester Ice Cats, #32 on the Oshawa Generals, #31 on the Baton Rouge Kingfish, #30 and #38 on the Lowell Lock Monsters, #32 in one of his seasons with the Windsor Spitfires, #30 on the Mississippi Sea Wolves, #55 Florida Panthers (training camp), #38 on the San Antonio Rampage
Teams: Smits Falls-Nepean, Nepean, Windsor Spitfires (2 yrs.), Oshawa Generals, Baton Rouge Kingfish ( parts of 2 seasons), Worcester Ice Cats, Mississippi Sea Wolves, Lowell Lock Monsters ( 2 years), L.A. Kings (1 game), and the Manchester Monarchs (2 years), San Antonio Rampage (2 yrs.), Metallurg Magnitogorsk (current)
Stick Preference: He likes to use a black Sherwood goalie stick with Sherwood written in white/gray lettering. He occasionally uses ITECH sticks. He has two different ITECH sticks. One of them is gray with white lettering and the other has gray and purple lettering. He used Louisville sticks when he played on Oshawa and Windsor. He used KOHO sticks on Windsor also. He used a black Sherwood with blue lettering when he played for Lowell.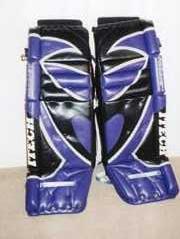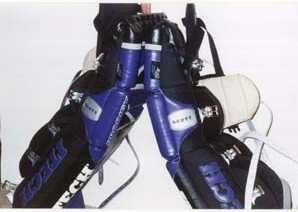 Size of his goalie pads: 36" inches long (pictured above)
Salary: N/A
Contract status: signed with Metallurg Magnitogorsk (Russian League)
ASSETS OF HIS GAME: He has good size for a goaltender and covers a good deal of the net.
FLAWS OF HIS GAME: He is prone to inconsistent play, which he needs to eliminate if he wants to pursue a career in the NHL
Tid-Bits
Pet Peeve: slow drivers
Your 1st car: '93 Jeep Cherokee Laredo
Kind of car he owns: Dodge Intrepid and a 2000 Jimmy
Advice from Travis- "You have to work hard and stay positive. A lot of goaltending is mental."
More advice from Travis- "Don't think the losses are your fault, it's a team effort." (Advice to young goalies)
Game-day Superstition: eat spaghetti and sleep at least 2 hours; will vary his game day meal though
Favorite arena: Worcester Centrum
Least favorite arena: Hartford Civic Center and the old arena in Hershey
Currently has around 10 trading cards...subject to change...will update you...
When the Manchester Monarchs held their first charity dinner, Travis did the chicken dance with news reporter, Charlie Sherman. I would have loved to seen that! (March 2002). I went to the Monarchs 2nd charity dinner, and Travis sang Piano Man!
He was featured on the show, The Monarchs Insider twice. My web site was talked about the 2nd time he was on the show.

Travis set aside some time to visit 13 year-old Collin LaFlemme at his home in the summer of 2002. Collin has been diagnosed with Osteo Genesis Imperfecta, also known as brittle bone disease. Collin and his family are big Monarchs' fans, so I'm sure Travis coming over to his house was a big thrill for him. Travis really knows how to make people feel better.
When Travis was on the Mississippi Sea Wolves, they made a billboard with him on it.
Travis Scott Bobblehead Night was Dec. 20, 2002.
Best thing about being a hockey player: not having a normal life
Worst thing about being a hockey player: not having a normal life
The best thing about when he played in Manchester: the fans
He always wanted to be a professional hockey player.
Best goal scorer he's ever faced: Brett Hull
Favorite quote: "You must be lucky to be good."
Date this page was last edited-8/23/05